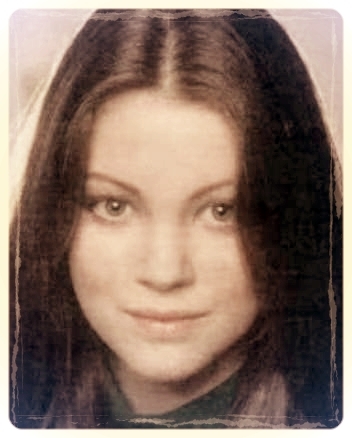 Nickname : Lynnie / English rose
Height : 1.59 m
Eyes Color : Green
Hair Color : Brown - Light
Astrological sign : Leo

Religion : Christian
Favorite song : I Did It My Way
Quotes :
"Sir leader whom have you for our breakfast ?". Lynne Frederick to Fiona Fullerton ("Nicholas and Alexandra")

"Today is the first day of rest of your life". Mark Burns to Lynne Frederick ("A Long Return").

"I guess I smashed the vase in which the roses of my life once stood. But I can still smell the scent". Lynne Frederick to Peter Evans.

"Peter is a very dear person and he desperately needs someone to look after him. I felt it was my duty to boost his confidence". Lynne Frederick of Peter Sellers.
"His incredible affection soured rapidly in an habitual jealousy which filled the first few weks of our marriage with despair". Lynne of Peter Sellers 2.

Story of site "Simply Lynne Frederick" :
I discovered Lynne Frederick in March 2008, on YouTube in a clip of the film "Nicholas and Alexandra" by Franklin J. Schaffner. A t the beginning I did not know the title of the film, not even the names of the actors and the actresses, then about another video dedicated to the film, me discovered the title on 12th April 2008, I made a search on the actors of the film and it is that discovered Lynne Frederick, when I read her biography on Wikipedia I was saddened to see what had died young of the consequences of alcoholism, I liked on his life to etudies her life, her career ... The website "Tribute to Lynne Frederick" was create on 10th December 2008, to honour him she who be in the 1970s, one of the stars rising of the British cinema and who regrettably died in tragic conditions. By this website I hope that persons will keep a memory of her. At the beginning I did not know Wifeo and I wish to thank my friend AleksandrBarislav, to made for me known Wifeo and to have me to help at the beginning to the construction of my website, if he exists today it is also grace has (he has website : "www.les-derniers-romanov.com/", which is in the file "Links"). I whish has what my website is the most precise possible on Lynne Frederick's life. My website was put on line on 10th December 2008, in the night, at the beginning I had difficulties has to build him, then understood how it was necessary to build him, the first made was "Filmography ", then little to little the site has to advance and it's continuous. I likes thanks for your visit and soon has. Since on 1st March 2012, the site was called "Simply Lynne Frederick".